Ciné Midi du mois d'Octobre 2010

L'Alliance Francaise organise tous les mardi midi une projection de films francais pour améliorer la compréhension orale de ses étudiants et favoriser leur connaissance en culture francaise.N'hésitez pas a venir découvrir les classiques du cinéma francais!!

The Alliance organizes french movies projections every tuesday at 12 to improve oral comprehension of the studients and to develop their knowledges about french culture...Do not hesitate to discover with us famous french movies!!



"Côte d'Azur" (Tuesday 10/05)
Sexual and romantic complications turn into a hilarious comedy, when Marc (Melki) takes his wife Béatrix (Tedeschi) and their two teenage children to the Mediterranean house of his youth.
The daughter Laura 19, has a rendezvous with her biker boyfriend, and the son, Charly 17, roams the seaside with his best friend Martin who has a crush on him. Béatrix, sensitive to the situation, presumes her son is gay too. When her lover unexpectedly turns up, and Marc's old flame appears, complications escalate into a historical explosion of pansexual interludes!
"Vipère au poing" (Tuesday 10/12)

In the Twenties, the young Jean Rezeau and his older brother Freddie are living a life of paradise on the grandmother estate in Brittany, when she suddenly dies. Their parents return from Indochina and the boys are forced to live once again with their parents and their other sibling. Unsurprisingly, they soon learn that life with their domineering, authoritarian mother Paule is a far cry from their loving, good-hearted grandmother.
Their father, Jacques is content to let Paule run the show and let him collect his precious flies. Both Jean and Freddie endure bullying, punishments and unjust abuse until Jean rebels and enlists his brother to help wage a humorous yet vicious war against the oppressive matriarchal tyranny.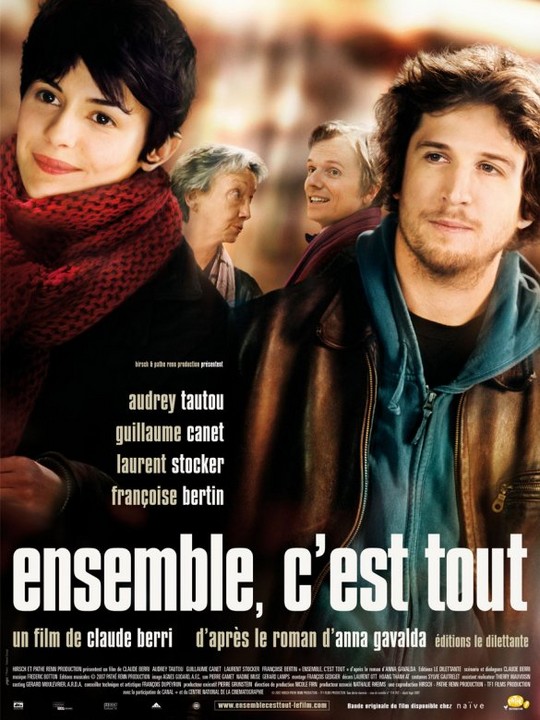 "Ensemble c'est tout" (Tuesday 10/19)
Camille (Audrey Tautou) works evenings as an office cleaning woman, and makes graceful drawings in her free time, living in the attic of a Parisian apartment block.
Philibert (Laurent Stocker) is a young, aristocratic history buff living - temporarily - in an apartment lower down, part of the estate of his late grandmother. He has let out part of it to up and coming cook Franck (Guillaume Canet), a gruff young loner and womaniser with a genuine love for his frail grandmother, Paulette (Francoise Bertin). When Camille falls ill, Philibert insists she stay with the two of them so he can look after her. And even though she and Franck clash, the trio manage to live together and learn from each other.
"Indochine" (Tuesday 10/26)

Regis Wargnier's epic about French Indochina - from the years of French colonial imperialism to the days when American presence made itself felt and the country became known as Vietnam -is a story of romance and separation told through the backdrop of a country in turmoil.
The film centers on the relationship of the beautiful and imperious Eliane, a French rubber-plantation owner, and Camille, her adopted Indochinese daughter. The mother and daughter are very close until a diffident naval officer, Jean-Baptiste enters their lives. Eliane is in love with him, but Jean-Baptiste and Camille become attracted to each other and fall in love. Thinking that she is doing Camille a favor, Eliane arranges to have Jean-Baptiste transferred to the far-away Tonkin Islands. But Camille flees the plantation to go to the man she loves….